High-Quality Electric Walkie Forklift Pallet Stacker
Model No.

ART

Made in

Taiwan
Our products can help save manpower and increase productivity.
Key Features
-Equipped with EPS (Electronic Power Steering) system and polyoxymethylene steering arm that makes the pallet stacker very easy to drive
-Saves 30% electricity efficiency compared to other electric pallet stackers on the market
-Supports side-by-side battery change
ADVANCED COUNTERBALANCED REACH TRUCK (AC SYSTEM) ( 1 TON / 1.5 TONS / 2.0 TONS)
· With EPS (Electronic Power Steering) system, very easy to drive.
· Mast reach electric stacker
· Advanced AC motor product
· Without carbon brush, easy maintenance
· Save electricity efficiently by 30%
· FRP body cover and battery cover
· Lead-free PU baked enamel painting
· Polyoxymethylene Steering Arm
· Mast draw back can reduce truck weight, reduce truck length and increase stability
· With a slow drive speed switch for duplex mast HI-LO (3M or above) and triple stage mast HI-LO (3.5M or above)
· No pollution, quiet, safty, durable and reliable
· Easy change battery by side move design.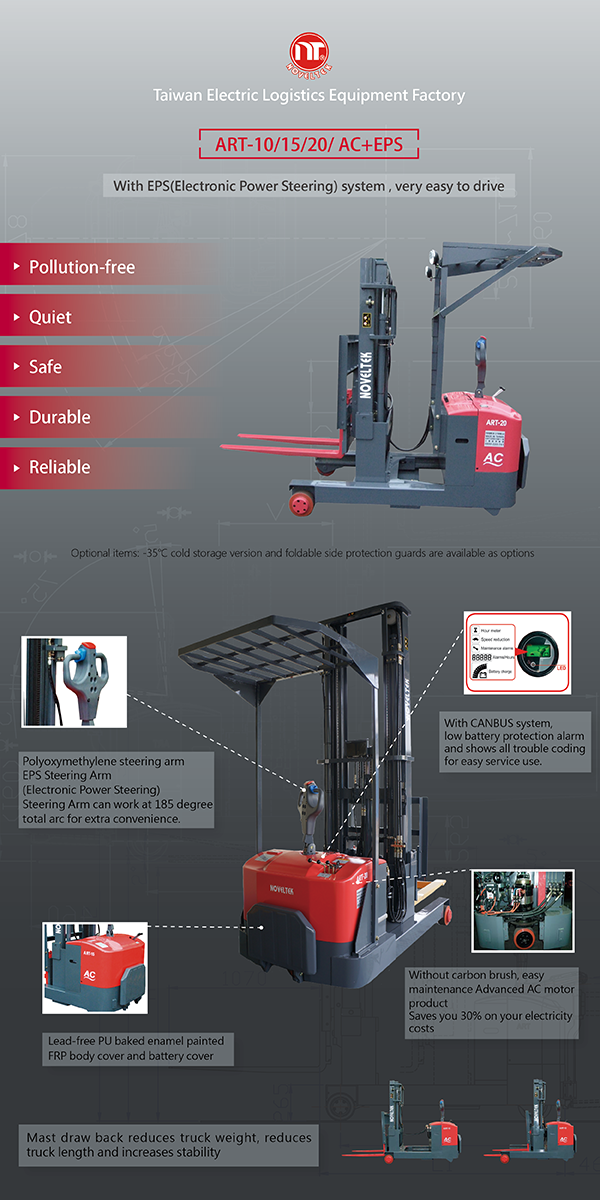 ---
You may also like
Recommendations
---
Small Order Recommendation