NOVELTEK completed TÜV Rheinland Taiwantrade Supplier Business Information Verification
17/05/17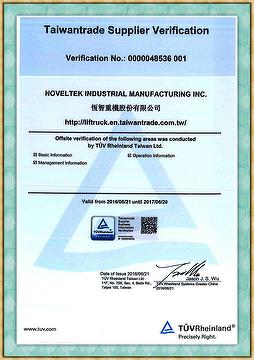 德國萊因國際驗證
NOVELTEK completed TÜV Rheinland Taiwantrade Supplier Business Information Verification
The verification certificate for Taiwantrade supplier aims to ensure the qualification of a supplier who is going to join Taiwantrade e-commerce platform. Business information such as company name/address, email address, company ID, telephone number, employee number, revenue, main product, management personnel, etc. will be verified by TÜ V Rheinland Taiwan to guarantee the authenticity. After that, verification certificate and test mark will be issued with validity of one year.
TÜ V Rheinland Taiwan`s Disclaimer:
This report reflects our findings for the particular company in concern on the date of our service only. This report does not discharge or release the factory/sellers/suppliers from their commercial, legal or contractual obligations with buyers in respect of products provided by the factory/sellers/suppliers. Any reader other that the party for which this report has been specifically issued is hereby informed that the General Conditions of Service of TÜ V Rheinland contain liability limitation provisions.